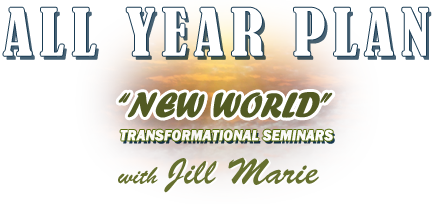 All Year Plan is a mini-clearing seminar that is destined to become one of the most powerful catalysts for transformative shifts in your life plan. I can feel it.
This mini-seminar is free, it's fabulous and a gift to you and the world. Your good fortune and harmony is going to ripple out and touch others, so the more of us using this new system of hyper-manifestation, the more expansively our world is going to stretch to meet and match the positive focus for change that our higher visions for peace and prosperity add to the collective consciousness.
In this seminar and every time you use the principles and tools outlines in it, you lay the foundation for the most amazing, expansive and gloriously vital, prosperous and harmonious year and years to come.

click here to learn more
& ACCESS the FREE SEMINAR!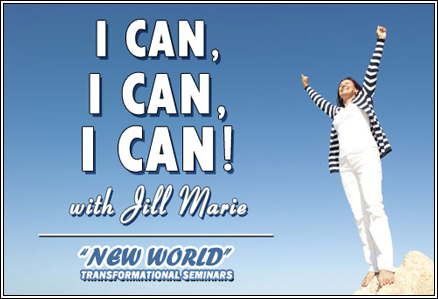 Jump in to this new mini-clearing hyper-manifestation seminar called:

I Can, I Can, I Can!
There are so many can'ts hardwired in to collective consciousness and our 3D realities that this mini-clearing seminar is going to make a huge impact on every participant.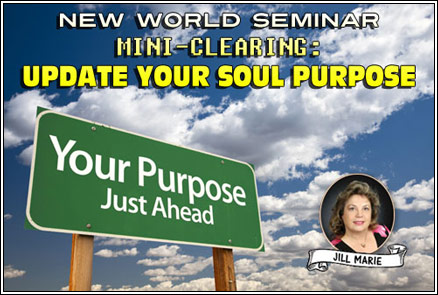 The topic of this guided journey clearing seminar is dedicated to re-aligning your Book of Life.
Many are complaining that the old ways of making money and manifesting don't seem to work like they did back in 3D. If you have had some issues with this it could be that your soul purpose is due for an update.
In this mini-clearing seminar we travel to the Akashic Records to align your Book of Life with an updated more modern version of your sacred paths and purpose. We work with your higher consciousness and soul and the Creator to update your purpose to work more cohesively with the new energies that support sovereignty, abundance, grace, peace and vitality.
seminar subscribers enter here
Every one of us has the privilege of amending our soul purpose at any time. It is a God-given right. In these new world energies we are privileged to elevate our soul purpose to match the grace we are choosing.
Register for this clearing seminar and I will send you preparation steps you will ready for the live or recorded conference.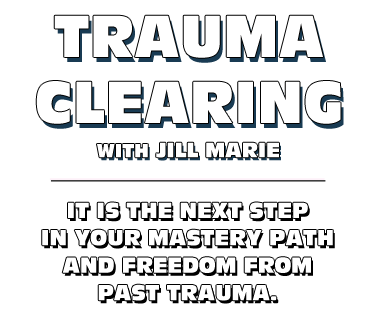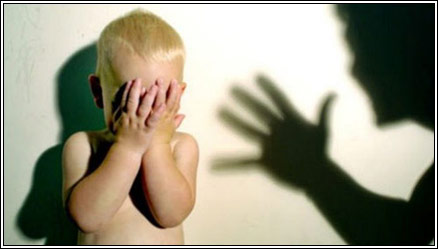 Read below to see how this clearing can change your life.
This trauma clearing is like nothing on Earth!
Countless individuals throughout the world have struggled their whole life, because of the things that happened to them in childhood or while in the womb and as a result of dramatic and traumatizing experiences that played out in their adult life.
Violence that was witnessed, experienced or even threatened can leave us feeling vulnerable and unsafe.
Watching someone that you love die can be a tremendous trauma, as well as the feelings of abandonment that embed as a result of relationship breakups, divorces (parents or you) and the fear of reprisals, going broke, losing your home or being cheated on.
One of the amazing things I have found in this clearing is that something like changing schools when you were a kid or being threatened or shamed can hardwire into the pain body and mental body map.

Register and then schedule your Trauma Clearing.
jillmarie@serenityministry.com
Please read more about this unique clearing discovery and
register for a personal 1-on-1 Trauma Clearing session.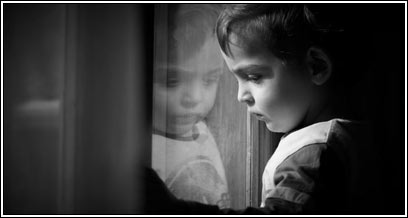 1-on-1 Trauma Clearing
This clearing opportunity is for individuals that experienced trauma in their life as well as those that feel and know they are dramatically affected by physical, emotional and suppressive shame based trauma in their childhood and repeated patterns of abuse throughout the life.
This unique clearing will take approximately 1 ½ hours and is implemented in a 1-on-1 bases that allows us to explore the layers of embeds.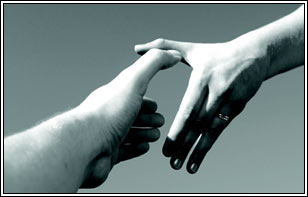 Registrants of a 1-on-1 Trauma Clearing receive free access to participate in the Group Trauma Clearing Opportunity . When a 1-on-1 trauma clearing participant participates in the Group Trauma Clearing, they have an opportunity to add remembered traumas to their previous clearing and receive that priceless bigger clearing profile offered that encompasses the masterfile of millions of traumas that are sure to unearth latent or benign embeds from real or perceived traumas.
Common Childhood Traumas:
Threats of corporal punishment
Fear of being punished
Beatings and spankings
Being shouted at or hearing parents fight
Parents separating or divorcing
Death of a loved one
Watching someone die from a prolonged illness
Fear of Authority Figures (police, school principles, teachers, parents and relatives)
Being bullied
Rape and molestation and fears about them
Illness, accidents, broken bones and other damages to the body
Getting burned
Surgery and dental trauma
The walk-in experience
Physical and emotional abandonment
Common Adult Traumas:
Being robbed, cheated, tricked or lied about
Fear of being attacked or raped
Accidents and injuries
Fear of cancer and other diseases
Looking in the mirror and seeing that you area aging
House fire
Tax audit
Symptoms of Traumatic Stress Disorder
for those grievously traumatized:
Overreaction to minor stress
Sleep disorders
Sense of defilement or stigma
Nightmares
State of fight or flight
Extreme mood swings
High risk behaviors
Shame, guilt and blame Panic attacks
Uncontrollable crying
Uncontrollable rages
Eating disorders
Suicidal feelings
Self mutilation
Somatic pain
Terror
Addictions (alcohol, drugs, sex)



From the moment of conception we share the essence of our mother's soul, because we are made of her body and are an element of her life experience. At some point the individuated soul essence meant for us enters our physical and energy bodies. Back in the day a soul entered the fetus a few days or weeks before birth, however, the soul essence of babies born in the last ten years enters much sooner.
In this mini-seminar, you have the opportunity to roll back time to become an ideal mentor to your child. After blending your soul essence with the soul of your gestating baby, a vision of the child's purpose is actively focused to you and it throughout its fetal development and full life experience. Clearing features utilizing quantum level reprogramming activate any time there is resistance to your roles of master mentoring and mentored master, so every day of your child's life you become focused and clear about the ways you can guide and protect him or her.
Have Questions?
Contact me below:
jillmarie@serenityministry.com